College Tournament Results (2021) – #7
TDR Editor's Notes ; It was a busy weekend with many season-ending tournaments for most wrestlers. The NAIA National Championships (#7 & 10) ended the season for all of those wrestlers. The last Division I qualifying tournaments in the Big 12 (#8) and Big 10 (#1 & 2) decided the last automatic qualifiers. Also included here are some of the Division II Super Regionals (#3 & 9) results, a look ahead to the Division III Nationals (#5) and the NCAA schools Women's Nationals (#6) results and more to review and guide readers in seeking wrestling news. Keep on Wrestling reading.
Contact us at the Editor's office at martinkfleming@gmail.com
++++++++++++++++++++++++++++++++++++++++++++++++++++++++++++++++++++++++++++
1 } – 2021 Big Ten Wrestling Championships
MARCH 6-7, 2021
UNIVERSITY PARK, PA. (BRYCE JORDAN CENTER)
BIG TEN WRESTLING  |  BRACKETS  | BRACKETS (PDF)  |  STANDINGS  |  RECORD BOOK  | 
CHAMPIONSHIPS SCHEDULE  |  SCHOOL INFORMATION  |  BIG TEN CHAMPIONSHIPS DIGITAL PROGRAM  |
BRYCE JORDAN CENTER  |   VIRTUAL PRESS BOX
The 107th Big Ten Wrestling Championships will be held March 6-7, 2021, at the Bryce Jordan Center in University Park, Pa., with Penn State University playing host to the event for the third time and the first since 2009. All 14 conference schools will participate in the championships, which begins Saturday, March 6, with the first-round, quarterfinal, semifinal and wrestleback matches taking place during Sessions I and II. Action continues Sunday, March 7, with consolation semifinals and seventh-place matches getting underway during Session III and the first-, third- and fifth-place matches highlighting Session IV. … rest of story at https://bigten.org/sports/2021/2/28/2021WRESChampionships.aspx?mc_cid=92195b958e&mc_eid=2ef7cbca4b
AND Iowa Claims Big Ten Wrestling Title
Hawkeyes capture their 37th conference crown and second in as many years
2021 FINAL RESULTS
STATE COLLEGE, Pa. – Iowa won the 2021 Big Ten Wrestling Championships title on Sunday with a team score of 159.5. The Hawkeyes earned their 37th Big Ten Championships title and second in as many years. Iowa claimed four individual titles from Spencer Lee (125), Jaydin Eierman (141), Alex Marinelli (165) and Michael Kemerer (174). Penn State finished in second place with 124.0 points, followed by third-place Nebraska with 105.5 points. Michigan claimed fourth place with 92.0 points and Minnesota rounded out the top five with 77.5 points.
Iowa's Spencer Lee was named the Big Ten Wrestler of the Year, while Hawkeye head coach Tom Brands was named Big Ten Coach of the Year for the fifth time. Minnesota's Gable Steveson earned Outstanding Wrestler of the Championships honors and Penn State's Carter Starocci received the Big Ten Freshman of the Year award. Lee successfully defended his 125-pound title after defeating Purdue's Devin Schroder 21-3. At 133 pounds, the Nittany Lions' Roman Bravo-Young posted a 5-2 decision over Austin DeSanto of Iowa to win his first individual conference title. Iowa's Eierman picked up his first Big Ten title after defeating Penn State's Nick Lee with a 6-5 decision to claim the 141-pound crown. The 149-pound title went to Ohio State's Sammy Sasso, who earned a 5-2 decision over Nebraska's Ridge Lovett. At 157 pounds, top-ranked Ryan Deakin of Northwestern successfully defended his title with a 6-0 decision against Iowa's Kaleb Young. Iowa's Marinelli successfully defended his championship at 165 pounds following a 3-2 decision against Ethan Smith of Ohio State. Marinelli became the first Hawkeye since T.J. Williams (1999-2001) to win three conference titles. The Hawkeyes' Kemerer took home the 174-pound championship with an 7-2 decision over Big Ten Freshman of the Year Starocci of Penn State. At 184 pounds, Penn State's Aaron Brooks was crowned following a 10-5 decision against Nebraska's Taylor Venz. … rest of story at https://bigten.org/news/2021/3/7/iowa-claims-big-ten-wrestling-title.aspx#:~:text=Iowa's%20Eierman%20picked%20up%20his,decision%20over%20Nebraska's%20Ridge%20Lovett.
2 } – HAWKEYES SEND 6 TO B1G FINALS
UNIVERISTY PARK, Pa. — The top-ranked University of Iowa wrestling team advanced six Hawkeyes to the finals and sits in first place at the 2021 Big Ten Championships following Saturday night semifinal action at the Bryce Jordan Center.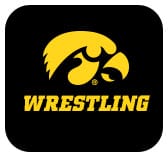 Defending champions Spencer Lee and Alex Marinelli are returning to the finals. Lee is defending the 125-pound title and Marinelli is aiming for his third straight conference title at 165. Lee and Marinelli are joined in the finals by Austin DeSanto (133), Jaydin Eierman (141), Kaleb Young (157) and Michael Kemerer (174). Kemerer is a two-time runner up making his third finals appearance. DeSanto, Eierman and Young are all first-time Big Ten conference finalists. Lee won by fall in 23 seconds, tying the school record for fastest pin at a Big Ten Championships. The record was matched earlier in the day by Tony Cassioppi, and first set in 1992 by Bart Chelesvig. Lee defends his 125-pound title against seventh-seeded Devin Schroder of Purdue. It is a rematch of the 2020 conference finals when Lee defeated Schroder by 16-2 major decision. … rest of story at https://hawkeyesports.com/news/2021/03/06/hawkeyes-send-6-to-b1g-finals/?mc_cid=98fec82373&mc_eid=2ef7cbca4b
AND HAWKEYES WIN BIG TEN WRESTLING CHAMPIONSHIPS
UNIVERSITY PARK, Pa. – The top-ranked University of Iowa wrestling team won the 2021 Big Ten Championships on Sunday, scoring 159.5 team points and crowning four individual champions. Alex Marinelli won his third straight 165-pound conference title, and Spencer Lee defended his 125-pound championship. Jaydin Eierman and Michael Kemerer became first-time Big Ten champions, leading Iowa to its second straight and 37th Big Ten Conference title. The team title is Iowa's second in as many years and the 37th in program history. The Hawkeyes 35.5 point margin of victory is the largest by a conference champion since the 2010 Hawkeyes won by 37 points. "We're going to St. Louis in less than two weeks. That's really where their heads are. That's where my head is," said Iowa head coach Tom Brands. "You talk about performance, let's do it again. (Someone) mentioned finishing at your seed or performing above your expectations, and that's what competitors do. Let's do it in St. Louis." … rest of story at https://hawkeyesports.com/news/2021/03/07/hawkeyes-win-big-ten-wrestling-championships/?mc_cid=3fad4ffad8&mc_eid=2ef7cbca4b
3 } – Division II Nationals
Live coverage of the 2021 DII wrestling championship selections
Brackets at https://www.ncaa.com/_flysystem/public-s3/files/DII_FInal_Brackets_2.pdf
CHECK OUT ALL THE RESULTS FROM THE SIX NCAA DIV. II SUPER REGIONALS
There were six NCAA Div. II Super Regionals held this weekend. This will set the stage for the NCAA Div. II Nationals, set for two weeks from now in St. Louis, Mo.
Teams that won Super Regional titles (with their national ranking)
• NCAA Div II Super Regional I at Erie, Pa. – No. 4 Gannon
• NCAA DII Super Regional II at Franklin Springs, Ga. – No. 20 Newberry
• NCAA DII Super Regional III at Tiffin, Ohio – No. 8 West Liberty
• NCAA DII Super Regional IV at Edmond, Okla. – No. 6 Central Oklahoma
• NCAA DII Super Regional V at Aberdeen, S.D. – No. 3 St. Cloud State
• NCAA DII Super Regional VI at Grand Junction, Colo. – No. 1 Nebraska-Kearney … rest of story and results at https://www.teamusa.org/USA-Wrestling/Features/2021/March/01/NCAA-Div-II-Super-Regional-results
4 } – ASU wrestlers break Pac-12 competition and championship trophy
Zeke Jones figured it was safe to entrust the Pac-12 wrestling championship trophy to senior Kordell Norfleet for a few hours Sunday night. "He's one of the most responsible guys on the team, and it was a short night anyway," from 10 p.m. after Arizona State won its fourth Pac-12 title in five years and 20th overall until a 3:45 a.m. departure from Corvallis, Oregon.  But boys will be boys, and the trophy did not make it back to Tempe in one piece. "Let's just say maybe the trophy needs to go to the hardware doctor," said Norfleet, one of ASU's five Pac-12 champions. "I don't know why or how." … rest of story at https://www.azcentral.com/story/sports/college/asu/2021/03/03/asu-wrestlers-break-pac-12-competition-and-championship-trophy/6904812002/?mc_cid=e764d9125d&mc_eid=2ef7cbca4b
AND OSU Wrestling: Cowboys Come Back to Win Share of Big 12 Title
AJ Ferrari's performance in the finals ties OSU with its Bedlam rivals.
Oklahoma State came into the finals of the Big 12 tournament eight points behind the Oklahoma Sooners. The Cowboys had three finalists with Daton Fix, Boo Lewallen,and AJ Ferrari. There were a number of scenarios discussed here that could have played out and resulted in various team champions, but the night ended with both state schools sharing the Big 12 trophy. At 133, Daton Fix knocked off Anthony Madrigal to win the conference title. Daton won fairly comfortably, but he was unable to secure any bonus points. The next match at 141 had the only OU wrestler not competing with another Oklahoma State opponent. Dom Demas beat Iowa State's Ian Parker. This put OU back up by eight heading to 149: Boo Lewallen vs. OU's Mitch Moore. Boo won by decision over Moore and brought Oklahoma State back within four points of OU. The loss by ISU at 141 and an eventual loss for Wyoming eliminated both of those teams from the title race. … rest of story at https://pistolsfiringblog.com/osu-wrestling-cowboys-come-back-to-win-share-of-big-12-title/?mc_cid=3fad4ffad8&mc_eid=2ef7cbca4b
5 } – FINAL TEAM LIST FOR NWCA DIII CHAMPIONSHIPS
The entry deadline for seeds was yesterday for the NWCA Division III Coaches Association National Wrestling Championships. Individual entries may change, but this is the list of the 34 teams expected to compete next weekend in Iowa. … full list of teams at https://www.d3wrestle.com/final-team-list-for-nwca-diii-championships/?mc_cid=bd28fec561&mc_eid=2ef7cbca4b
AND How to Watch: 2021 NWCA Division III Championship
View All 2021 NWCA Division III Championship
Here's how to watch the 2021 NWCA Division III Championship on FloWrestling. The 2021 NWCA Division III Championship starts on Mar 12, 2021 and runs until Mar 13, 2021.
How to Watch:
STREAMING: Watch the 2021 NWCA Division III Championship on FloWrestling. SIGN UP HERE.
On Your TV: Now Available on Roku, Fire TV, Chromecast & Apple TV. … rest of story and options at https://www.flowrestling.org/articles/6910111-how-to-watch-2021-nwca-division-iii-championship
6 } – National Collegiate Women's Wrestling Championships Recap
Tiffin, Ohio – The National Collegiate Women's Wrestling Championships were contested yesterday on the campus of Tiffin University. There were 22 NCAA programs and 147 wrestlers. McKendree won the team title for a second consecutive season, racking up 209 points and a 37.5-point gap. King was second with 171.5 points, and Emmanuel was third with 133.5 (full results).  Six of McKendree's eight finalists won individual titles, and the Bearcats finished with 14 All-Americans. For Felicity Taylor, the third time was the charm. The junior from Iowa placed second at the WCWA National Championships in 2019 and NCWWCs in 2020. This year she faced Tiffin's Sugey Ceja, now a three-time national finalist, and had to give everything to win it. Down 6-2, Taylor secured a takedown and rolled through a string of laces turned tech-fall with less than a minute on the clock. … rest of story at https://www.transitionwrestling.com/national-collegiate-womens-wrestling-championships-recap/?mc_cid=3fad4ffad8&mc_eid=2ef7cbca4b
AND NCWWC Final Results
Final Team Standings (top 10)
1. Mckendree 209
2. King 171.5
3. Emmanuel 133.5
4. Colorado Mesa 97
5. Augsburg 88.5
6. North Central 80.5
7. Tiffin 65.5
8. Presbyterian 52.5
9. Adrian 43
10. Gannon 34 … rest of results at https://www.transitionwrestling.com/ncwwc-final-results/
7 } – NAIA
UPDATE: GRAND VIEW RALLIES IN CONSOLATIONS FOR SLIM 2.5-POINT LEAD OVER LIFE AFTER DAY ONE OF NAIA NATIONALS
After the Friday night quarterfinals of the NAIA National Wrestling Championships in Wichita, Kansas, the team standings was clearly a bit of a shocker. No. 3 ranked Life University was in the lead with 83 points, while nine-time consecutive NAIA national champions and No. 1 Grand View was in second with 75 points. However, the NAIA ran the tournament all the way through the blood rounds this year, going through the consolations until it determined all the All-Americans for the year. After a rally in the consolations, Grand View reclaimed a slim 2.5 point lead over Life, 98 points to 95.5 points. Grand View is attempting to become the first college team ever to win 10 straight national titles, regardless of level. They are currently tied at nine-straight with NCAA Div. I power Iowa, coached at the time by the legendary Dan Gable. … rest of story at https://www.teamusa.org/USA-Wrestling/Features/2021/March/05/Update-Grand-View-has-slim-lead-at-NAIA-Nationals-after-day-one?mc_cid=92195b958e&mc_eid=2ef7cbca4b
AND REED NAIA NATIONAL CHAMPION FOR THE THIRD STRAIGHT SEASON; WRESTLING FINISHES THIRD
PARK CITY, Kan. – Brandon Reed claimed his third straight NAIA National Championship in the heavyweight class as the Lindsey Wilson wrestling team finished in third place. The Blue Raiders totaled 89 points throughout the two-day championship. After the event, Reed was named the NAIA Wrestler of the Year as well as the Tournaments Most Outstanding Wrestler. Reed is the first Blue Raider in program history to win three individual national titles. Reed (No. 1 at HW) took a 2-1 lead into the second period of his championship match against Greg Hagan (No. 2 at HW) of Grand View after scoring an early takedown. Hagan tied the match after starting the second period down with an escape. Reed scored another takedown in the period followed by a Hagan escape that pushed the score to a 4-3 lead for Reed into the final stanza. Reed scored a late takedown to secure his national title with a 6-3 decision. … rest of story at http://www.lindseyathletics.com/article.php?articleID=13198&checkSplashCookie=1
AND Larger than Life: Acosta, Eagles deny Grand View record-breaking 10th straight NAIA title
Before Grand View began its quest for college wrestling history, before the Vikings had even won their first national championship, Omi Acosta sat in Nick Mitchell's office, listening to a recruiting pitch and a vision. Mitchell talked about taking over NAIA wrestling, and Acosta played a pivotal role in helping the Vikings get to the top of the heap. He won an individual championship the night Grand View hoisted a team title trophy for the first time. 
That was just the start.  Once the Vikings got ahead of the NAIA pack, they started pulling away. They won national titles in each of Acosta's three seasons working under Mitchell as an assistant coach, and Grand View pushed its title streak to nine last March, matching college wrestling's all-time record.  While the Vikings kept stuffing their championship trophies into their case, Acosta took over an upstart program of his own — Life University — and began the chase of getting to Grand View's level by hearkening back on the lessons he learned almost a decade ago while wrestling for Mitchell. … rest of story at https://www.trackwrestling.com/PortalPost.jsp?TIM=1615113557966&twSessionId=hqmldenbei&postId=1112124135&mc_cid=98fec82373&mc_eid=2ef7cbca4b
8 } – BIG 12 Championships
SOONERS LEAD BIG 12 CHAMPIONSHIP AFTER DAY ONE
TULSA –  The Oklahoma wrestling team used seven bonus-point wins to erupt for 62 points in Saturday's second session and now take a 10-point lead into the final day of the Big 12 Wrestling Championship. A conference-best nine Sooner wrestlers remain in the bracket or wrestlebacks, including a trio of finalists who punched their tickets to the NCAA Championship with their performances on Saturday. Oklahoma (107 points) closed its night with three pins back-to-back-to-back and a tech fall to jump Wyoming and Oklahoma State in the standings and move into first place.
"We obviously wrestled really well tonight, but there is still a lot of wrestling left," head coach Lou Rosselli said. "I'm proud of how our guys competed today with their backs against the wall, and we know what we need to do to accomplish our goals tomorrow." … rest of story at https://soonersports.com/news/2021/3/6/wrestling-sooners-lead-big-12-championship-after-day-one.aspx?mc_cid=98fec82373&mc_eid=2ef7cbca4b
AND SOONERS WIN BIG 12 CHAMPIONSHIP
TULSA – For the first time since 2002, the Oklahoma Sooners are champions of the Big 12 Conference. The Sooners, powered by three finalists and six NCAA qualifiers, were tied by Oklahoma State with 124 team points after Sunday night's final session at the BOK Center in Tulsa, as the teams were named co-champions. It is Oklahoma's 24th conference championship, and third in the Big 12, but first in 19 years. Oklahoma held a 10-point lead approaching the finals and were powered across the finish line by 141-pound champion Dom Demas. 
Following the championship, Oklahoma head coach Lou Rosselli was named Big 12 Coach of the Year.  "Obviously a really exciting night for our program," Rosselli said. "We knew that our guys had this type of fight in them and so for them to show it all weekend was really special for us and our university." Dom Demas became a two-time Big 12 champion on Sunday night by defeating Iowa State's Ian Parker after two tiebreaker periods when Parker was called for locked hands, but the Sooner All-American would've won on riding time criteria had the locked hands not been whistled. For Demas, he avenges his 2020 finals' loss to Parker and becomes Rosselli's first two-time champion at Oklahoma. Demas is the Sooners' 186th conference champion. … rest of story at https://soonersports.com/news/2021/3/7/wrestling-sooners-win-conference-title.aspx?mc_cid=3fad4ffad8&mc_eid=2ef7cbca4b
AND Cowboy Wrestling Claims Ninth-Straight Big 12 Tournament Title
Updated Brackets (PDF) Photos
TULSA, Okla. – The Oklahoma State wrestling team claimed a school-record ninth consecutive conference tournament title Sunday night as the Cowboys went 3-0 in the finals and finished with 124 team points to earn a co-championship with Oklahoma at the 2021 Big 12 Championships. The run of nine-straight conference tournament titles marks the longest streak in Big 12 wrestling history and breaks OSU's former school record of eight consecutive championships that was set from 1921-1928. "We definitely didn't want the co-championship," coach John Smith said. "I think each team would've preferred to have won it, but congratulations to Oklahoma on a good effort and the things they did to put themselves in a position to win. It is what it is, but it reminds each guy in tight races like this to think about what they could have done to score one more point." The Cowboys entered the final session with an eight-point deficit in the team standings  ,,, rest of story at https://okstate.com/news/2021/3/7/cowboy-wrestling-claims-ninth-straight-big-12-tournament-title.aspx?mc_cid=3fad4ffad8&mc_eid=2ef7cbca4b
9} – CHECK OUT ALL THE RESULTS FROM THE SIX NCAA DIV. II SUPER REGIONALS
No. 1 ranked Nebraska-Kearney qualified all 10 wrestlers to the national tournament on Sunday. Below are the full results of all six Super Regionals. … rest of story at https://www.teamusa.org/USA-Wrestling/Features/2021/March/01/NCAA-Div-II-Super-Regional-results
AND Super Regional Disaster
The saga to crown a Super Regional IV team champion had drug on for 36 hours before resolving today. For the University of Central Oklahoma, that finally meant being able to officially hoist themselves the 2021 championship trophy. This is the first regional championship for UCO since 2012 and their 20th overall. It's the icing on the cake of a successful tournament that saw the Bronchos crown three champions and qualify seven athletes for the national tournament. Coach Steidley has put the rest of Division II on notice that his program is ready to compete for a team championship in St Louis. However, their one-point margin of victory over Lindenwood University has sparked controversy and called into question the scoring of all the Super Regionals.  The controversy hinges on such a simple word, "possible." The rule about scoring "true second" matches can be found in Section VII, Article 6.
NCAA Rules, Sec. 8, Art. 6. True Placement Matches. When true placement matches are wrestled in an individual team advancement tournament, the team score shall be adjusted only if true placement matches are held at all possible weight classes.
But what does "possible" mean? Does that mean only if all 10 weights are contested at true second? Or does it mean if all the possible true second matches are contested. The latter is what has happened in this case, but there is still more to this story. … rest of story at https://news.theopenmat.com/college-wrestling-news/super-regional-disaster/80143?mc_cid=bd28fec561&mc_eid=2ef7cbca4b
AND Comments From Super Region 4 Trackwrestling Operator On Controversy Surrounding The Scoring And Tournament Finish
There have been a lot of questions, conversation, and other information shared surrounding the controversial finish at Division 2 Super Regional 4 in Edmond this past weekend. I received an email from Joe Dauphin, who ran the tournament on Trackwrestling this past weekend, attempting to clarify some of the details on how things went. I thought I would share it.
Email from Joe Dauphin: I ran the Super Regional at UCO on Trackwrestling, and I have been following many stories and tweets about it. I wanted to clear some things up that have been inaccurate. Lindenwood was never announced as the winner. After the tournament on Sunday night, the Trackwrestling score had UCO as the winner by 1 point.  … rest of story at https://owrestle.com/comments-from-super-region-4-trackwrestling-operator-on-controversy-surrounding-the-scoring-and-tournament-finish/
10 } – Men's Wrestling Makes History, Claiming NAIA National Championship
WICHITA, Kan. —- 10 of 12 Life U wrestlers made it to the podium as All-Americans, and Brandon Orum clinched the 125-pound title as the Life University Men's Wrestling team turned the NAIA wrestling world on its head last night, making history with the program's first ever national championship. Life U accumulated 158 team points to reject the favorite's, Grand View, shot at making collegiate wrestling history with its 10th-straight championship, winning by a five-point margin over the second-place Vikings' 153 points in what was a two-team race after the first day. The rest of the top five teams at the end of the tournament were Lindsey Wilson at third with 89 points, Indiana Tech at fourth with 75.5 points, and Cumberland (Tenn.) at fifth with 74 points. The Mid-South Conference represented itself well in the tournament, six teams placing in the top 10. Three Running Eagles—Orum, Denver Stonecheck, and Asher Eichert—took to the stage on championship night, vying for the highest honor in their respective weight classes with Orum being the team's lone victor.  … rest of story at https://liferunningeagles.com/news/2021/3/7/mens-wrestling-makes-history-claiming-naia-national-championship.aspx?mc_cid=3fad4ffad8&mc_eid=2ef7cbca4b
11 } – Turriff Earns NSIC Elite 18 Award
Mankato, Minn. — Minnesota State's Trevor Turriff was named the 2020-21 NSIC Elite 18 Award winner for wrestling. Turriff joins Carah Drees (2021- WBB), Alex Goettl (2019 – FB), Amber Kral (2019 – SB), Maggie Knier (S&D 2017-18, 2018-19 & 2019-20) and Erica Ellstrom (S&D 2016-17) as NSIC Elite 18 Award winners from Minnesota State. As part of the NSIC 25th Anniversary celebration, the NSIC Elite 18 Award was instituted to recognize the true essence of the student-athlete by honoring the individual who has reached the pinnacle of competition at the NSIC Championship level in his or her sport, while also achieving the highest academic standard among his or her peers. … rest of story at https://theguillotine.com/2021/03/turriff-earns-nsic-elite-18-award/?mc_cid=92195b958e&mc_eid=2ef7cbca4b
12 } – 2021 COLLEGE POST-SEASON SPECIAL SECTION
NCAA Div. I men's coverage
Conference coverage
Long-time rivals Oklahoma and Oklahoma State finish tied and become co-champions of the Big 12
Iowa repeats as Big Ten champions, claiming four individual titles
Third and fifth place matches set after third session of Big Ten Championships
Iowa puts six in the Big Ten Championship finals, Penn State close behind with four finalists
Oklahoma leads Big 12 after day one, with Oklahoma State and Wyoming tied 10 points behind the Sooners
Lovett upsets Murin, but Iowa holds the lead in the team race after the first session of the 2021 Big Ten Championships
Arizona State repeats as Pac-12 champions, with five individual champions
Three Peat: NC State claims ACC gold for third straight year
Campbell wins third straight SoCon title with three champs and five NCAA qualifiers; App State gets five champions
Mizzou wins tenth staight conference title, with four MAC champions
Lehigh wins EIWA title with four champions and 10 qualifiers, Navy takes second
Missouri leads MAC Championships after day one … rest of story at https://www.teamusa.org/USA-Wrestling/Features/2021/February/26/College-Post-Season-Special-Section?mc_cid=02f3563d01&mc_eid=2ef7cbca4b
No comments yet.